New York's new gun law: How might the NRA challenge it in court?
Since a key US Supreme Court decision in 2008, challenges to gun laws have flooded the courts. One part of New York's law that is likely to be hotly debated: restrictions on high-capacity magazines.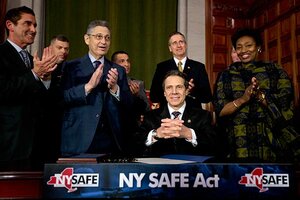 Mike Groll/AP
The National Rifle Association says it will take to court New York's tough new gun bill, signed into law by Gov. Andrew Cuomo (D) on Tuesday.
The new law, called New York Secure Ammunition and Firearms Enforcement Act or NY SAFE Act, is particularly tough on the high-capacity ammunition magazines used in semiautomatic assault rifles. Residents of the state will not be allowed to use magazines that carry more than seven rounds and will be required to sell, within a year, any magazines that hold eight or more rounds.
Outside experts expect the NRA will challenge the law as a violation of the Second Amendment, which protects the rights of citizens to own and bear arms.
Ever since the US Supreme Court's 2008 decision in District of Columbia v. Heller, in which the justices struck down a ban on owning handguns in Washington, D.C., challenges to gun laws have flooded the courts.
In its 5-to-4 decision, the high court said the District's handgun prohibition, which started in 1976, violated the Second Amendment. But the court also left room for the District to put prohibitions on gun ownership by felons and the mentally ill.
---