Obama's gun-control proposals: Will Republicans get on board?
President Obama's push for universal background checks appears to have broad support in Congress, but not his other gun-control priorities – including an assault-weapons ban.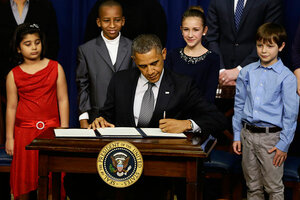 Charles Dharapak/AP
President Obama's gun-control proposals are getting a mixed reception on Capitol Hill, where there appears to be bipartisan support for universal background checks but little appetite for banning assault weapons and high-capacity magazines – even among some Democrats.
Key Democratic leaders in the Senate have signaled that they are behind all the president's efforts, suggesting that they will get a full airing there. But meeting the 60-vote threshold to pass the president's entire agenda without a filibuster appears unlikely – and the Republican-controlled House shows no signs of taking action until the Senate passes a bill.
While national opinion polls have shown a greater openness to gun control after the Dec. 14 massacre at Sandy Hook Elementary School in Newtown, Conn., they also indicate that the American public is overwhelmingly supportive only of universal background checks. And without overwhelming support, it seems, Republicans and Democrats in conservative-leaning districts fear they are more likely to face a backlash for a vote in favor of gun control than against it.
"If you look at the combination of likelihood of passage and effectiveness of curbing gun crime, universal background checks is at the sweet spot," said Sen. Chuck Schumer (D) of New York.
According to a recent Washington Post-ABC poll, almost 9 in 10 Americans support universal background checks. That's far higher than the slim majority of Americans who favor bans on assault-weapon sales or restrictions on magazine size, according to the same poll.
Perhaps not surprisingly, Mr. Obama's proposal to require background checks for all gun buyers drew almost no criticism from Republican lawmakers. Currently, gun sales from so-called "private sellers," which make up about 4 in 10 firearms transactions, don't require the buyer to pass a background check.
Rep. Mike Thompson (D) of California, chairman of the House's Democratic task force on gun violence, told reporters on Monday he had spoken to several Republican members who were in favor of universal background checks.
But beyond universal background checks, the rest of the president's proposals look as if they could be in for a hard slog.
---