Obama's second term: What history says to expect
The myths and realities of second-term presidents – and what they portend for Obama.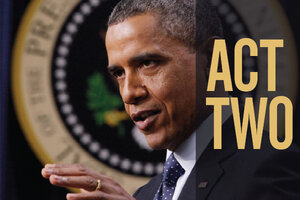 Charles Dharapak/AP
They sit outside the Oval Office beside a table still piled with Christmas gifts: four White House aides waiting for the president. It is January 1997. They're supposed to talk with Bill Clinton about his inaugural, laying out themes for his second term.
Three of them agree on one thing. It's time to retire that worn-out phrase they'd used so much in the past four years – "bridge to the 21st century."
"We've got to be straight with him," Michael Waldman, Mr. Clinton's chief speechwriter, tells the others.
The door to the Oval opens. Clinton walks out. Without even saying hello, he says: "I don't see why we can't use bridge to the 21st century."
Mr. Waldman wrote later about the answer they all chorused: "Absolutely, sir."
"We were all well aware of the curse of the second term," he comments in his book "POTUS Speaks." "[F]ew had worked out well."
Today, well into that 21st century, Barack Obama is about to become the 21st president of the United States to serve a second term. He'll deliver his inaugural against a backdrop of commentary, much of it about the "curse" Waldman mentions.
"Triumphant Obama Faces New Foe in 'Second-Term Curse,' " read one headline a day after the 2012 election.
"Can Obama dodge the Second-Term Trap?" asked another.
Googling "second-term curse" yields as many as 4 million results. Lots of people believe it – including President Obama, at least in part. "I'm well aware of the history of second-term overreach," he has said.
But does that mean it's true? Or is the truth closer to what Rutgers University presidential historian David Greenberg termed in a recent New Republic piece – "The Myth of Second-Term Failure"?
Whether one believes in the curse or not, second-term presidents inevitably confront problems both unexpected and familiar. Obama will, too. Does the past hold any clues about how to overcome them?
---