What is it about an inauguration that lightens the mood on Capitol Hill?
At a post-inaugural lunch on Capitol Hill, Obama and US lawmakers put rancor aside, and comity and laughter presided. On Inauguration Day, at least, Washington can still get along.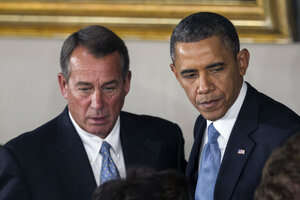 Benjamin Myers/Reuters
Not long after his second inaugural address on Monday, President Obama faced a pair of unlikely foes: first lady Michelle Obama and House Speaker John Boehner.
"Michelle and the speaker of the House came to a meeting of the minds," the famously long-winded Mr. Obama said during a lunch with congressional leaders and other dignitaries in the Capitol, "that I may be delaying the proceedings too much."
The sometimes bitter relationship between the president and the most powerful Republican in Washington disappeared for a moment, and there was laughter. On Inauguration Day, at least, Washington can still get along.
Sure, some of the D.C. bonhomie of Inauguration Day is cheesy and evergreen, a tepid collegiality along the lines of US senators calling one another "my dear friend" even as they excoriate each other on the Senate floor. But on a day about American unity, the bipartisan comity was a warm reminder of the higher ideals that sometimes get lost amid factional strife.
"Today we praise the American tradition of transferring or reaffirming immense power as we inaugurate the president of the United States. We do this in a peaceful, orderly way," said Sen. Lamar Alexander (R) of Tennessee during the inaugural ceremony. Senator Alexander was one of the two Senate leaders charged with orchestrating the festivities surrounding Obama's inauguration on the west Capitol steps.
"This is a moment when millions stop and watch – a moment that is the most conspicuous and enduring symbol of our democracy," continued Alexander, who left a position with the Senate's GOP leadership in 2011 to more freely pursue bipartisan problemsolving.
Obama, too, struck a conciliatory tone during his lunch remarks. "I recognize that democracy is not always easy, and I recognize there are profound differences in this room," he said.
---