Jerry Brown's second act: With California budget balanced, what now?
Gov. Jerry Brown will give his State of the State speech Thursday – a week after saying the state is no longer running deficits. Now he has to lay out a new vision.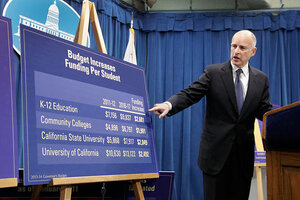 Rich Pedroncelli/AP
When Gov. Jerry Brown (D) of California ascends to the podium for his third State of the State address Thursday morning, he will be faced with one overarching question: What will he do for a second act?
Since being elected in 2010, he has focused on fiscally turning around a state that ran deficits of as much as $27 billion annually. Last November, he got the last piece of his strategic puzzle when voters approved Proposition 30, Governor Brown's plea for a temporary tax hike.
Now, he says, the state is in the black (though some analysts dispute that). What no one disputes is that he has the wind in his sails, and that Wednesday's speech will go some way toward laying out where his administration is likely to go from here.
The problem is that California is still not in a position to loosen the purse strings, says Barbara O'Connor, director emeritus of the Institute for Study of Politics and Media at California State University, Sacramento.
"Jerry's challenge is that he has to show that California can grow when it needs to grow in an era of fiscal austerity, and he has some real problems," she says. "Yes, we are out of the woods, but we could turn back into the woods real quickly."
The hurdles ahead include prison funding, education reform, climate change, and implementation of the federal health-care act.
Brown is also expected to take on two major infrastructure projects: a $23 billion set of underground canals to transport water from the Sacramento-San Joaquin Delta south and restore Delta habitat, and the first link of a $69 billion high-speed rail corridor.
How to maintain big ideas while spending wisely could hold lessons for other states.
"He is pushing forward a state that hasn't seen his brand of leadership in a generation or more," says David McCuan, a political scientist at Sonoma State University. "Chris Christie of New Jersey may be the candid governor of the land, but Jerry Brown is the seasoned political pro who also thinks big and pushes ideas well before they seep into the public consciousness."
---