McCain pounds Chuck Hagel in Senate confirmation hearing
At the confirmation hearing for Chuck Hagel as Defense secretary, Sen. John McCain took a particularly robust line of questioning, asking him about his views on the surge in Iraq.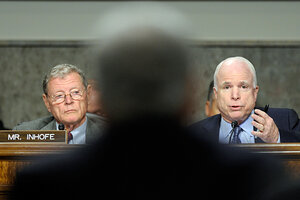 Susan Walsh/AP
It was a marathon, day-long hearing for former Sen. Chuck Hagel as he was grilled in front of a standing-room-only crowd on his past "votes and quotes," as one lawmaker put it, in his quest to become America's next secretary of Defense.
Was Mr. Hagel willing to concede that the surge in Iraq was not, as he had argued, America's greatest foreign-policy blunder since Vietnam?, Sen. John McCain (R) of Arizona asked – repeatedly.
Sen. Lindsey Graham (R) of South Carolina wanted to know whether Hagel would change his mind and vote, if he had the chance, "today, tomorrow, or after lunch" to designate Iran's Revolutionary Guard as a terrorist organization.
And did he regret calling pro-Israel groups in America an intimidating force that drives US officials "to do dumb things"?
On all these questions, Hagel endeavored to reassure critics of his tough national-security bona fides, while remaining, for the most part, characteristically unapologetic about most of his past remarks.
---