Ed Koch: a collection of favorite New York minutes with the mayor
Ed Koch, a three-term mayor of New York, died Friday. His trademark 'How'm I doin'?' – as much a challenge as a question – was as brash as the city he led for 11 years. Here's our remembrance of some defining Koch moments.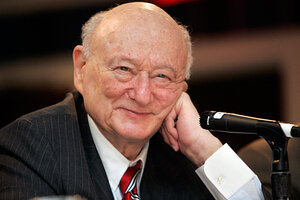 Frank Franklin II/AP/File
"How'm I doin'?"
The question – an Ed Koch trademark – came at the four of us as we slipped out of a taxi in 1978 in Greenwich Village. And there he stood, the man himself. Caught unawares, we all yelled back, "Great!"
What we didn't realize was that CBS's "60 Minutes" had a film crew trailing hizzonor. As the mayor shouted at us, the cameraman swung around to capture the moment. That brief encounter with the legendary Mr. Koch, who died Friday, became the teaser – right before the tick, tick, tick – for the news show's segment.
Over many years since then, I, like many reporters, had more substantive conversations with Koch, who invariably had an opinion about the topic du jour – and was more than willing to share it. Here are some Koch classics.
Political endorsements
In September 2011, Koch – who might be characterized as an independent Democrat – announced he would endorse Bob Turner, a Republican, over a Democrat in a special election to replace disgraced Democratic Rep. Anthony Weiner in a district that spanned Brooklyn and Queens. The endorsement, he explained, had nothing to do with the candidates: It was all about his perception that President Obama had "thrown Israel under the bus" and it was important to let him know.
---