Domestic violence bill passes Senate: Is GOP chastened by Election 2012?
The Senate passes VAWA, a domestic-violence bill that was caught in gridlock last year. But signs suggest that the House could be ready to compromise with the Senate this year.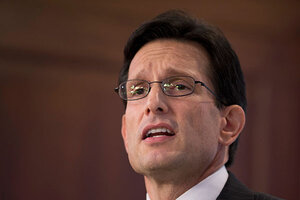 Manuel Balce Ceneta/AP
The Senate passed the Violence Against Women Act by a broad bipartisan margin on Tuesday, pushing the long-languishing act into the hands of House Republicans who stalled the law's enactment during the last session of Congress.
All 55 Democrats joined more than half the Republican caucus (23 in favor, 22 opposed) to pass a bill that reauthorizes some $660 million in funding for violence prevention programs during the next five years.
Everyone in Congress agrees VAWA, as it's known, is necessary – what's unknown, like so much else on Capitol Hill, is whether there remains the political will to iron out differences between the House and Senate. But there are several signs that point toward the bill's enactment this time around.
Democrats sense their GOP colleagues may be making electoral adjustments in light of the shellacking their party took at the hands of female voters in the 2012 elections. Each of the Senate's 20 female members, including five Republican women, voted for the measure, and eight Republicans switched their votes from "nay" to "aye" since last year's vote.
"One of the lessons from this election is that women are going to stand up," said Sen. Amy Klobuchar (D) of Minnesota after the vote, before referencing several of the GOP's most wince-inducing statements about women and women's health from the 2012 election cycle. "I don't think it's a surprise that we're seeing some movement now on the Violence Against Women Act."
---