From preschool to high school, Obama seeking big progress in education
This week the president announced ambitious plans for universal preschool access and high school curriculums tailored to the 21st century, but are Congress and the states interested?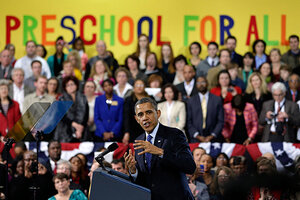 John Bazemore/AP
President Obama laid out an ambitious agenda for improving American K-12 education this week, linking the issue to the nation's future prosperity.
During his State of the Union address Tuesday, Mr. Obama said he wants to make public preschools available to all four-year-olds in the US, a goal he then underscored Thursday with a visit to an early childhood learning center in Decatur, Ga..
"We know it works," he said at the school. "If you're looking for a good bang for your educational buck, this is it right here."
His Tuesday speech also promised a new effort "to redesign America's high schools so they better equip graduates for the demands of a high-tech economy" and a plan to develop a "college scorecard" to help young people gauge the costs and benefits of attending a particular college.
The success of the president's lofty goals, however, will depend in large part on how successful he is at fleshing out his agenda and selling it to states and a politically divided Congress.
But some education experts say his proposals are at least a step in a positive direction – given the agreement that "human capital" is vital in an increasingly knowledge-based global economy.
---