Gun control alone isn't enough to halt violence, Obama says in Chicago
Visiting a Chicago neighborhood he represented as a state legislator, Obama said violence is about more than gun control, 'It's also an issue of the kinds of communities that we're building.'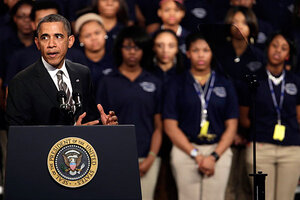 M. Spencer Green/AP
On paper, President Obama's trip to Chicago Friday was just the last stop on his post-State of the Union tour, focused on strengthening the economy and building up the middle class.
But the reality was much more.
It was a homecoming to a neighborhood Mr. Obama used to represent as a state legislator, in a city wracked by gun violence. And it was personal in a different way, as he dispensed fatherly advice to the schoolmates of Hadiya Pendleton, the honor student at Hyde Park Academy who was shot and killed last month not far from Obama's house.
In his remarks, Obama linked the cycles of violence to the lack of strong role models and economic opportunity.
"This is not just a gun issue," he said, speaking to students, teachers, and community members at Hyde Park Academy on Chicago's South Side. "It's also an issue of the kinds of communities that we're building."
The president called for improvements in public safety, school reform, tax breaks to promote hiring, and the replacement of run-down public housing. He also repeated his call from the State of the Union to boost the federal minimum wage to $9.00 an hour and establish universal access to public pre-kindergarten.
And he called on Congress to pass gun control legislation, in the wake of the Newtown, Conn., school massacre in December. But on the issue of guns, he added that there's only so much government can do.
"When a child opens fire on another child, there is a hole in that child's heart that government can't fill. Only community and parents and teachers and clergy can fill that hole," Obama said.
---