Bob Goodlatte: GOP point man on immigration urges 'regular order'
House Judiciary Chairman Bob Goodlatte says that wherever the immigration debate winds up, nothing gets done in the end without education and building consensus in committee.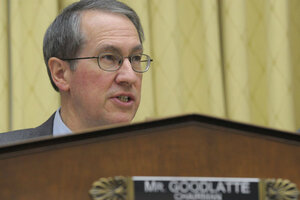 Susan Walsh/AP
Rep. Bob Goodlatte, chairman of the House Judiciary Committee, didn't get the sexy assignment among Republican lawmakers in fixing the nation's immigration laws.
While Sen. Marco Rubio (R) of Florida and Rep. Raul Labrador (R) of Idaho are the public Latino faces fighting the PR battle for an immigration fix, Representative Goodlatte is doing the spadework of making sure that, however the immigration reform debate breaks, House Republicans will be ready.
A 20-year House veteran from Virginia's Shenandoah Valley, Goodlatte laid out his perspective on the coming immigration reform debate in a half-hour interview with the Monitor on Friday.
Goodlatte's goal is to ensure that the long-abandoned committee process for considering legislation is thrumming along robustly so that if bipartisan compromise comes, it will be absorbed into an already-moving process with members already well-educated on the issues.
If bipartisan compromise proves elusive, Goodlatte's efforts will unearth the pieces of immigration reform that House Republicans can support in order to patch as much of the system as possible.
---