Abortion rights: Why New York is swimming against the national tide
New York Gov. Andrew Cuomo has come under fire for proposing a bill relaxing abortion controls even as many other states push restrictions. His office says the bill aims to strengthen Roe v. Wade.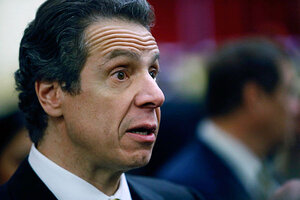 Derek Gee/The Buffalo News/AP
Former Gov. George Pataki, the Roman Catholic Church, and now Fox News host Bill O'Reilly have joined a growing chorus of voices blasting New York Gov. Andrew Cuomo (D) for championing an abortion bill that would provide access to late-term abortions if a woman's health is endangered or the fetus is not viable.
The latest opponent to join the ring, Mr. O'Reilly, called Governor Cuomo "barbaric" last Thursday on the Glenn Beck show and said he wants "to legalize late-term abortion for any reason ... a migraine headache, a hang nail, a panic attack."
It's no surprise the governor's proposed Reproductive Health Act is gaining so much attention. The chorus of protests began after Cuomo outlined the proposed legislation in his January State of the State address, as part of a broader package of women's rights initiatives. One of the country's most liberal pieces of abortion legislation, the bill goes against the national tide, attempting to relax abortion controls at a time when many other states are seeking restrictions.
Last year 19 states enacted 43 provisions restricting abortion access, according to the Guttmacher Institute, an abortion advocacy and research group. Not one measure was adopted to expand abortion access. In 2011, a record-breaking 92 abortion restrictions were enacted.
"Pretty much all of the energy, all of the momentum, has been to restrict abortion, which makes what could potentially happen in New York so interesting," Elizabeth Nash of the Guttmacher Institute, told The New York Times. "There's no other state that's even contemplating this right now."
---