Obama's divide-and-conquer strategy: Is it really about destroying GOP?
The day after Obama's inauguration, Boehner accused him of trying to 'annihilate' the Republicans. Indeed, the party's struggles since have only grown. But weakening the GOP may not be all Obama wants.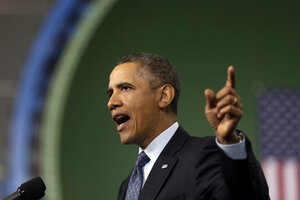 Charles Dharapak/AP
There's no doubt about it, things aren't going well for the Republicans.
The latest polls show President Obama and the Democrats beating Republicans on just about every issue, from the economy and health care to immigration, Medicare, and gun violence. Overall, 45 percent of Americans agree with most of what the president is doing, 40 percent agree with the congressional Democrats, and only 29 percent agree with the congressional Republicans, according to an NBC News/Wall Street Journal survey released Wednesday.
Ouch.
So here's a question: What role (if any) has Mr. Obama played in the Republicans' travails? Some Republicans – hello, Eric Cantor – say there's nothing wrong with the party's positions, and their problem is marketing. Others, in a hint to hard-line tea partyers, say the party has to become more pragmatic and open to compromise even while still hewing to its core principles.
But there's a case to be made that Obama has helped exacerbate the GOP's internal divisions by highlighting wedge issues. Gay marriage, the expansion of Medicaid, immigration reform, even the "sequester" – all have splintered the Republicans and at times forced them into debate among themselves as much as with Democrats.
"Obama's doing a good job of exploiting internal discord," says Ford O'Connell, president of the conservative Civic Forum PAC.
---