Detroit emergency declared. Can intervention turn around the city's finances?
Detroit emergency manager is likely to be assigned in less than two weeks by Michigan Gov. Rick Snyder. Some city council members are considering mounting a legal challenge.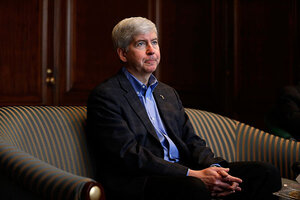 Paul Sancya/AP
The city of Detroit is less than two weeks away from the likelihood of being assigned an emergency manager. In announcing that the city is in a state of financial emergency Friday, Michigan Gov. Rick Snyder (R) said he agrees with a state report that concluded intervention is necessary because city officials have not yet provided a satisfactory alternative.
The city's comeback is vital to strengthening the overall state economy, Governor Snyder said in an address Friday. Detroit's financial collapse has been decades in the making, he said.
"[Citizens] deserve public safety, they deserve better lighting, they deserve better transportation, and the list goes on. We need to solve these issues. Detroit can't wait any longer," he said.
Detroit is saddled with a $100 million cash-flow deficit by June 30, in addition to an accumulated deficit of $327 million, a financial review team reported last week. Even more serious is its $14.9 billion in unfunded pension and retirement liabilities. The city needs $1.9 billion to fund liabilities within the next five years, but to date has no plan.
"If those [pension and retirement liabilities] don't get fixed, it's hard to see Detroit getting financially solvent. There are very few other long-term fixes," says Eric Scorsone, an economics professor at Michigan State University in East Lansing.
Snyder's declaration of a financial emergency sets off a 10-day appeals process, which allows the mayor or the nine-member city council to ask for a hearing to offer an alternative to an emergency manager. The deadline to make the appeal is March 11. The hearing date would be March 12. After that, Snyder will make his final decision.
Detroit Mayor Dave Bing said he does not support an emergency manager but has long complained that the city council has put up obstacles hindering the city from working with the state on other solutions. A financial consent agreement between the state and city council last April did not significantly improve the financial situation.
---