Arkansas' tough new abortion law on shaky legal ground, experts say
With a legislative override of the governor's veto, Arkansas has adopted perhaps the toughest abortion law in the country – outlawing abortions after 12 weeks. But legal challenges are coming.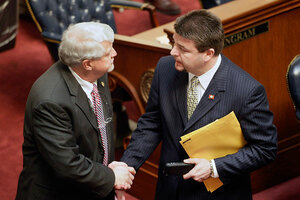 Danny Johnston/AP
Arkansas has adopted what have been described as America's toughest restrictions on abortion, but law experts suggest the legislation has little chance of surviving the legal challenges that look certain to follow.
The measure makes most abortions illegal after 12 weeks of pregnancy – the shortest such time frame in the country.
Gov. Mike Beebe (D) had rejected the bill, but the state Senate overrode the veto on Tuesday, as did the state House on Wednesday. The bill is set to become law 30 days after the legislative session ends May 6.
Governor Beebe and legal experts agree that the bill will probably be struck down in court. Roe v. Wade, the landmark 1973 decision by the US Supreme Court, legalized abortion nationwide. Limits on when abortions can take place vary by state, but the high court has indicated that the procedure can take place up to when the fetus is viable outside the womb, which is about 24 weeks into pregnancy.
"It is very clear this law is unconstitutional under current doctrine," says Jonathan Entin, a law professor at Case Western Reserve University in Cleveland. "A 12-week limit is well before viability, and the Supreme Court has consistently said the Constitution protects a right to a pre-viability abortion."
The bill, Professor Entin says, should be viewed more as a "symbolic statement" by its supporters to create "a way to try to get the Supreme Court to revisit the whole subject of abortion."
Arkansas state Sen. Jason Rapert (R), a co-sponsor of the bill, told a local television outlet Wednesday: "I'm just happy for the lives that will be saved in Arkansas, and I think America is going to wake up, the conscience of America is going to awaken on this issue."
---