Colorado gun control: Can state with pro-gun past enact new restrictions?
Colorado has a cultural history of gun ownership. It was also the site of two high-profile shootings. Five gun-control proposals are now moving through the Democratic-majority legislature.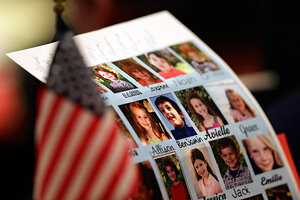 Brennan Linsley/AP
Colorado has become a focal point in the gun-control debate, as a package of restrictions on gun ownership advance through the legislature and appear on track to become law.
If that happens, Colorado will become the first state after New York to enact significant gun-control legislation in the wake of the December shooting in Newtown, Conn., and the first swing state to do so.
A state with a libertarian bent and a cultural history of gun ownership, for hunting as well as protection and recreation, Colorado has also been the site of two of the most high-profile mass shootings – this past August in the Aurora movie theater and Columbine High School in 1999. A swing state, it's also under Democratic control for the first time in years (the governor, House, and Senate are all Democratic) – though many of those Democrats are moderates who are also champions of gun rights.
Last week saw heated debate in the state's Capitol that went, in some cases, well into the night. Star national witnesses from both sides of the issue appeared to testify, including Mark Kelly, husband of former Arizona Congresswoman Gabrielle Giffords, shot by a Tucson gunman. At one point, a small plane flew overhead with a message for Gov. John Hickenlooper: "HICK: DO NOT TAKE OUR GUNS!"
---