Congress opens first budget debate in four years
Congress this week takes up the parties' sharply different views on taxes and spending. Just laying down political markers on next year's budget could help advance a 'grand bargain' on deficits and entitlements, some say.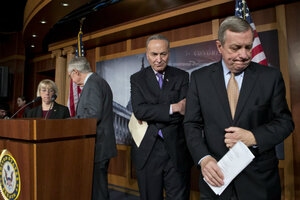 J. Scott Applewhite/AP
When Senate Democrats and House Republicans unveil their budget proposals for the 2014 fiscal year this week, Washington's next round of wide-ranging fiscal negotiations will start with a partisan roar.
After a week of bipartisan consultations, House and Senate spending committees are on track to reach a compromise bill on funding the government past March 27, when a stopgap funding measure runs out. But the next Capitol Hill debate – over competing blueprints for spending for fiscal year 2014, which begins in October – is expected to run at least until Easter and won't have any of the bipartisan comity of the talks to keep government funded through the end of the current fiscal year.
Still, the debate over the FY 2014 budget could play a role in helping to break Washington's longer-term fiscal impasse.
The budget resolution is nonbinding, because it is the appropriations committees that actually set final funding levels. But the resolution requires both parties to take tough votes on tax and spending targets for government, as well as make estimates of their future consequences for federal deficits and debt.
Through it all, lawmakers and President Obama will be feeling out the contours of the long-elusive grand bargain that could wrap in changes to entitlement programs, revamp the nation's tax code, and chart a fiscal path for the next decade and beyond.
---