CPAC: Mitt Romney's return and a post-mortem on 2012
In his first major public address since losing the November election, a warmly received Mitt Romney urges the youthful CPAC crowd to 'learn from our mistakes and my mistakes.'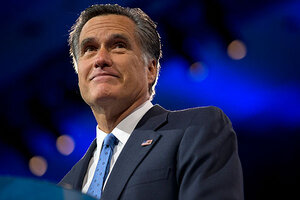 Jacquelyn Martin/AP
In his first major public address since losing last November's presidential race, Mitt Romney offered gratitude and some advice to a ballroom full of enthusiastic conservative activists Friday.
"Now, as someone who just lost the last election, I'm probably not in the best position to chart the course for the next one," Mr. Romney said to laughter at the 40th annual Conservative Political Action Conference, or CPAC.
Then he made a well-received strong pitch to follow the lead of the Republican governors.
"Perhaps because I'm a former governor, I would urge us all to learn lessons that come from some of our greatest success stories," Romney said. "And that's 30 Republican governors across the country."
He pointed in particular to Republican governors in Democratic-leaning and swing states, such as New Jersey, Virginia, Ohio, New Mexico, Wisconsin, and Nevada. Notably, two of those governors – Chris Christie of New Jersey and Bob McDonnell of Virginia – were not invited to speak at CPAC, presumably because of recent actions that broke with conservative orthodoxy.
Romney's reception at CPAC was perhaps his warmest yet for a man who governed Massachusetts as a moderate and who has had a mixed relationship with conservatives over the years. The crowd cheered and stood when he took the stage, and stood again as he finished.
Overall, the CPAC crowd – many of them college students – was energetic and attentive, happy to be among like-minded people and receiving the attentions of leading conservative political figures.
Last year, Romney raised eyebrows when he told CPAC he had been a "severely conservative governor." But he went on to win the group's annual presidential straw poll anyway, though just barely, beating former Sen. Rick Santorum, 38 percent to 31 percent. Romney had also won the CPAC straw poll from 2007 to 2009. In 2008, when he lost the Republican nomination to Sen. John McCain of Arizona, he was seen as the conservative alternative.
---