Assault weapons ban shelved: Strong reactions pour in
The exclusion of the assault-weapons ban from gun-control legislation could improve the likelihood of the package passing. But Sen. Dianne Feinstein is among those unhappy with the decision.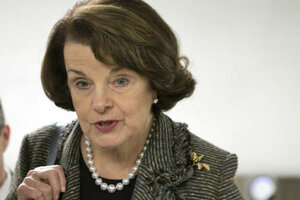 J. Scott Applewhite/AP/File
A tactical decision by Senate majority leader Harry Reid to exclude a ban on assault weapons from gun-control legislation has sparked reaction among politicians and media outlets.
The exclusion of the hotly debated measure could improve the likelihood of passing the gun-control package, which includes stronger background checks, harsher punishments for gun trafficking, and funding for school safety enhancements.
"I think the worst of all worlds would be to bring something to the floor and it dies there," Senator Reid told reporters Tuesday. "People are deserving of votes on their issues they feel so strongly about."
Sen. Dianne Feinstein (D) of California did not hide her disappointment in the decision.
"This is very important to me. And I'm not going to lay down and play dead," she told CNN Tuesday. "It's aimed to protect children, to protect schools and malls.... Not to give me a vote on this would be a major betrayal of trust, as I would see it."
Senator Feinstein's bill would ban more than 150 specific assault-style weapons, and last week it passed the Senate Judiciary Committee with a 10-to-8, party line vote. Reid said that the bill does not have enough support in the Senate, with fewer than 40 votes.
Feinstein cites broad public support for the measure: Sixty percent of Americans would vote for a law that would "reinstate and strengthen the ban on assault weapons that was in place from 1994 to 2004," according to a January Gallup poll. And 55 percent of Americans favor a ban on assault-style weapons, a Pew Research Center poll from the same month showed.
"America has to stand up," she told the Los Angeles Times. "I can't fight the NRA. The NRA spends unlimited sums, backed by the gun manufacturers, who are craven in my view."
The exclusion of the assault-weapons ban was inevitable because of the influence of the National Rifle Association and gun manufacturers in Washington, D.C., says editorial board of New Jersey's Star-Ledger newspaper.
---