For immigration reform, time could be of the essence
Immigration reformers feel that they have the momentum to push comprehensive immigration reform over the finish line, but critics want to ensure time to understand proposed changes.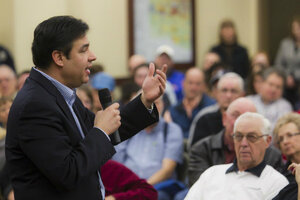 Darin Oswald/The Idaho Stateman/AP/File
As immigration reform legislation percolates in closed-door, bipartisan working groups in the House and Senate, lawmakers are approaching their self-imposed deadline of mid-April to lay out actual legislation.
But, with opposition groups rallying their forces, the speed at which lawmakers can move to a vote could determine whether the legislation can make it to President Obama's desk at all.
Those working on immigration reform clearly feel that the wind is at their back right now.
House minority leader Nancy Pelosi (D) of California told the Hispanic Chamber of Commerce on Wednesday that an immigration bill would be finished before the summer, echoing remarks from leading immigration reformer Rep. Luis Gutierrez (D) of Illinois on Tuesday, who said that "the moment is right politically, and the further away we get from Election Day 2012, the less urgency there will be."
That's also how Rep. Raul Labrador (R) of Idaho, Representative Gutierrez's counterpart among House conservatives, sees things – albeit with a little longer time window.
Without legislation that is "well on its way by the end of the year, I think you get into the silly season, the political season, and nothing is going to get done," he says. "I hope that something is at least fully vetted by December."
But between that timeline and political reality are a host of problems.
"There are a lot of things that have to fall into place in kind of a perfect fashion in a timeline that a lot of people are talking about in the next four to five months," says Rebecca Tallent, a former chief of staff to immigration reform veteran Sen. John McCain (R) of Arizona, who is now leading an immigration reform commission at the Bipartisan Policy Center in Washington.
---