Michael Bloomberg as counterweight to NRA: What are his chances?
Billionaire and New York Mayor Michael Bloomberg taps his money, and political zeal, to counter the political clout of the NRA. The gun rights group sees 'billions of reasons to take him seriously.'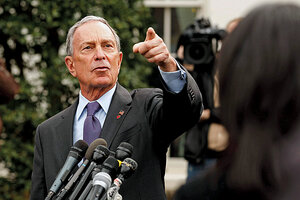 Kevin Lamarque/Reuters
The National Rifle Association boasts big numbers. It has 4.5 million members and a budget of more than $300 million. It's 142 years old and is arguably unmatched in funding, focus, and fervor.
But now, New York Mayor Michael Bloomberg, along with his "super political-action committee," is emerging as a main counterweight to the NRA.
The billionaire businessman-turned-politician is pursuing an ambitious agenda to change the national conversation on guns. He brings to the table a net worth of $27 billion, a record of pursuing unpopular causes he deems important, and the defiant zeal of a man nearing the end of his career who's decided to make gun control part of his legacy.
How effective can a single person be against one of the most influential lobbying groups in Washington?
It's clear Mr. Bloomberg won't travel an easy road. "Any longtime observer of American politics is going to put his money on the NRA," says Larry Sabato, director of the Center for Politics at the University of Virginia in Charlottesville.
But then again, Mr. Sabato says, don't count the former media mogul out. "He has enough money to be a real counterweight," he says. "Bloomberg combines almost unlimited cash with a successful politician's understanding of voters and issues, so there's no question that he tops any other NRA opponent, even longtime gun-control advocates like [Sen.] Dianne Feinstein."
Even NRA spokesman Andrew Arulanandam says: "We have billions of reasons to take him seriously," adding, "He is a well-financed opponent."
Bloomberg so far has poured roughly $12 million into his five-month-old super PAC, Independence USA, to back eight candidates in races across America. He chose them because of several issues, including marriage equality and education reform, but the top issue appears to be gun control. In particular, one race in Illinois – a special primary election in February to fill a congressional seat vacated by Jesse Jackson Jr. – put Bloomberg and his super PAC in the headlines.
---