Business, labor reach immigration deal on guest workers. Will it stand?
The US Chamber of Commerce and the AFL-CIO have reached a deal on guest workers as a part of comprehensive immigration reform. That was a major issue, but more remain including border security and a pathway to citizenship.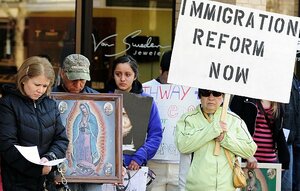 Matt Gade/Kalamazoo Gazette-MLive Media Group/AP
A major speed bump on the path to comprehensive immigration reform appears to have been removed. That's the issue of guest workers – low-skilled immigrants who come to the United States under a temporary visa program.
Over the weekend, senior business and labor representatives came to an agreement on how many such workers could enter the US each year, what jobs they could hold, and what the pay scale would be.
The agreement was reached in a phone call late Friday night with AFL-CIO President Richard Trumka, US Chamber of Commerce head Tom Donohue, and Sen. Chuck Schumer (D) of New York, who's been mediating the dispute, reports CBS News.
By Sunday morning, senior lawmakers of both parties were confirming that a deal had been reached, and that this was an important step toward reform – including how to address the estimated 11 million illegal immigrants in the US today.
"I think we've got a deal," Sen. Lindsey Graham (R) of South Carolina said on CNN's "State of the Union." "We've got to write the legislation, but 2013, I hope, will be the year that we pass bipartisan immigration reform."
---