Obama's budget offends just about everybody. Is that compromise?
President Obama will unveil his federal budget proposal this coming week. Based on leaked details, the plan already is getting hammered by his own liberal base as well as by Republicans.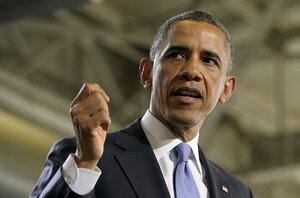 Susan Walsh/AP
Tough economic times make for tough political times for any president, and that's increasingly true for President Obama.
The budget he'll formally propose this coming week is getting hammered left and right. That may indicate a willingness to compromise on his part in hopes of striking a bipartisan, middle ground deal with congressional Republicans. But it also illustrates the limits on his aspirations. (See higher taxes on the wealthy or reining in some entitlement programs, including Social Security – the "third rail" of politics.)
In his weekly address Saturday, Mr. Obama called the budget he'll unveil Wednesday "a fiscally responsible blueprint for middle-class jobs and growth."
"My budget will reduce our deficits not with aimless, reckless spending cuts that hurt students and seniors and middle-class families – but through the balanced approach that the American people prefer, and the investments that a growing economy demands," he said, "investments" meaning more spending on some programs.
"We'll make the tough reforms required to strengthen Medicare for the future, without undermining the rock-solid guarantee at its core," Obama said. "And we'll enact common-sense tax reform that includes closing wasteful tax loopholes for the wealthy and well connected."
Republicans in Congress more or less called Obama's plan – especially its tax elements – DOA (dead on arrival).
In a statement, House Speaker John Boehner complained that Obama was holding "modest" entitlement savings "hostage for more tax hikes."
From the left, those "modest" entitlement savings – including changing the way cost-of-living increases are calculated for those on Social Security – provoked outrage and threats to challenge Democratic lawmakers who might go along with Obama.
---