How dealmaking gets done on Capitol Hill
In the new politics of Congress, deals are no longer fashioned by moderates, who vanished long ago, but by a few lawmakers on the left and right who have the respect, clout, and just enough pragmatism to surmount the culture of division.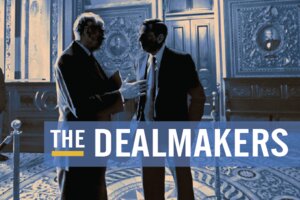 Illustration by staff, from photo by J. Scott Applewhite/AP
The 112th Congress, born in the tea party wave of 2010 and ending with President Obama's thundering reelection last November, was the least productive session in more than 60 years. Quietly, however, the 113th Congress is showing signs of getting more things done over the next two years – despite all the rancor beneath the rotunda.
The year started off with a bipartisan group of senior senators heading off a potentially "nuclear" showdown over a controversial Senate tool – the filibuster. In March, the long-delayed Violence Against Women Act moved from moribund to becoming law. More recently House and Senate lawmakers worked assiduously to keep the government funded through the end of the fiscal year, without the protests that have surrounded such measures in the recent past.
On nearly every major legislative initiative, at least some bipartisan activity is under way, even if it isn't yielding everything its sponsors would like. From strengthening controls on firearms to immigration reform to renewed stirrings of a "grand bargain" on taxes and entitlement programs, Congress is alive with the possibility of compromise. In other words, the dealmakers are resurfacing.
Why has this all been so hard?
Many of the obstacles to congressional deal-making have been building for years and aren't peculiar to Washington's current dysfunction. The sharp divide among lawmakers reflects in part the polarization on a wide range of policy and cultural issues that exists among the voters who sent them there.
---