Luis Gutierrez: pivot man on House immigration 'gang'
How the Illinois Democrat and others work in groups behind closed doors as part of the new dealmaking in Congress.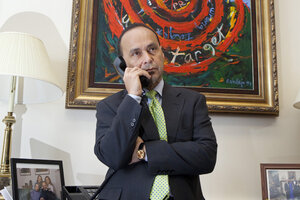 Melanie Stetson Freeman/The Christian Science Monitor
Rep. Luis Gutierrez (D) is a blunt liberal from Chicago with an activist's bent.
The first Hispanic elected to Congress from Illinois more than 20 years ago, Mr. Gutierrez once famously got into a shoving match with Rep. Tom Tancredo (R) of Colorado, for many years the right's poster boy for hard-line immigration policies, after a broadcast appearance.
And it's not just conservatives who have felt his rebuke. Gutierrez has been an unrepentant critic of President Obama's record of deporting the most undocumented immigrants of any chief executive in history.
Yet the fiery Gutierrez is also the House's leading immigration negotiator. He cosponsored a comprehensive immigration package in the mid-2000s. Now his consensus-building skills are being tested as he leads a bipartisan group in the House on his signature issue once again – immigration reform, the 2013 version.
Gutierrez will be key to whether any compromise on the volatile issue makes it through Congress this year. In the Senate, a group of eight lawmakers is working on immigration reform, too. They will likely put forward their bill first. But for any deal to pass, it will have to survive the GOP-held House, which has thwarted numerous attempts at rewriting the nation's immigration laws in the past. Thus Gutierrez and his band of about a dozen lawmakers may have the last word – or at least the loudest – on any package that ultimately emerges.
The House group represents one way that compromise is reached in the poisonous atmosphere of Congress: through bipartisan gangs that operate behind closed doors. It's often the only way to build the trust necessary to tackle sensitive political issues.
---