DREAM Act: Senate immigration reform bill offers 'best' version yet
Senate's immigration reform bill includes a version of the DREAM Act that would make some young people eligible for green cards and US citizenship after five years. Immigration advocates hail the proposal.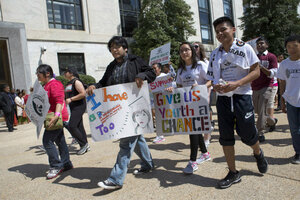 Jacquelyn Martin/AP
For undocumented young people brought to the US as children, the latest version of the DREAM Act won't heal a decade-long wait for legislative relief – but it is, by far, the most generous version of the bill seen to date.
Bipartisan immigration legislation filed by the Senate's "gang of 8" immigration reformers on Tuesday would put so-called DREAMers on a more generous fast-track to citizenship than any prior legislation and end a long-anticipated wait for legal status that has eluded the estimated 2 million such young people since the DREAM Act was offered more than a decade ago.
"It's the best DREAM that we've ever had," says Lorella Praeli, the advocacy and policy director for United We Dream, a large coalition of DREAMers that has vigorously lobbied on immigration issues.
"This is the result of years of organizing, years of sharing stories, and really dreamers have become politically popular," says Ms. Praeli, a Peruvian DREAMer herself. "In earlier years, politicians were playing with our lives. They were so eager to trade in, to really take out things that were important for us. What you see now is the power of the DREAM movement coming through."
DREAMers have become a political force in the immigration reform debate. Their advocacy – and work on their behalf by sympathetic lawmakers and immigration advocacy groups – helped spark President Obama's directive last summer to shield from deportation many young people in the US illegally. Even House majority leader Eric Cantor (R) of Virginia reversed his previous view and supported a version of the DREAM Act earlier this year.
---