Immigration reform bill may hang on economic effect of legalizing millions
Friday's testimony at first Senate hearing on the bipartisan immigration reform bill presented economic pros and cons of legalizing some 11 million people. A chief concern is wage suppression for low-skill Americans.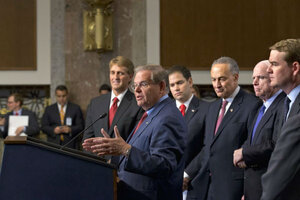 J. Scott Applewhite/AP
The US Senate's first hearing on a bipartisan proposal to overhaul America's immigration system centered mainly on this question: Would legalizing some 11 million undocumented people offer enough benefits to the overall economy to outweigh the negative effect such a step would have on the wages of low-skill citizens?
Most senators on the Judiciary Committee argued Friday that the benefits would outweigh the costs, and one of two conservative witnesses agreed with that assessment. Whether the broader Senate will eventually reach the same conclusion, however, is far from certain.
Low-skill workers and black Americans in particular would see their wages reduced and job prospects dimmed if the US were to legalize millions of new workers, says Peter Kirsanow, a member of the US Commission on Civil Rights. He called the prospect of such a step "madness."
"Low-skilled Americans are a significant part of that economy," said Mr. Kirsanow, a former labor lawyer appointed to the National Labor Relations Board by President George W. Bush. "And I think they're being completely excluded from this discussion."
Former Congressional Budget Office Director Douglas Holz-Eakin, on the other hand, testified that not only would a growing labor force add more than $2 trillion in federal revenues in decades ahead, but also that officially adding new and younger workers to the workforce would reduce pressure on America's entitlement programs.
---