Veteran dealmaker Max Baucus announces Senate retirement
A centrist Democrat in a conservative state, Max Baucus has taken many tough votes over his six terms in the Senate, but battles over guns and health care loomed large in his reelection bid.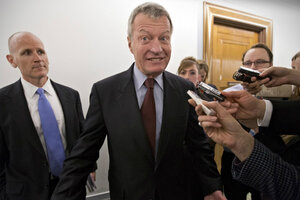 J. Scott Applewhite/AP
Sen. Max Baucus, who helped draft President Obama's signature health-care law and who is leading a drive to reform America's tax code, won't seek a seventh term in the US Senate in 2014.
The Montana Democrat has infuriated some in his party over the years by walking a centrist political line in a state that regularly backs Republicans for president but has a long history of elevating members of either party to other statewide offices.
But he's been a consistent political survivor who will likely bequeath his seat to yet another Democrat, former Gov. Brian Schweitzer, should the extremely popular Mr. Schweitzer opt to enter the race.
Senator Baucus recently drew the ire of Democrats, including the campaign organization built by Mr. Obama's presidential campaign, by calling the implementation of the president's health-care law a looming "train wreck" and for voting against expanding background checks for firearms sales.
At the same time, Baucus has shown his political mettle in turning back a host of conservative challengers over the past three decades.
"Every six years, Democratic Sen. Max Baucus lands on Republicans' target list," wrote the nonpartisan Cook Political Report in an analysis of the race, "and every six years they are disappointed."
The retirement is less about politics and more about the Montanan's personal situation, says David Parker, a professor at Montana State University, who is writing a book about the 2012 Senate election in Montana.
---