Why Obama agenda group faces pushback from some Democrats
Organizing for Action, an issue-advocacy group that spun off from President Obama's reelection campaign, is going after some Democrats and competing for fundraising dollars.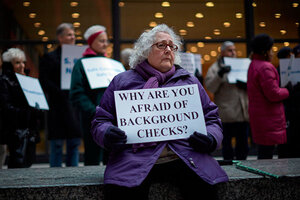 John Gress/Reuters/File
The young life of Organizing for Action – the issue-advocacy group that spun off from President Obama's reelection campaign – has been anything but easy.
OFA launched four months ago amid high expectations for what it could do to boost Mr. Obama's agenda. After all, its leaders come from the Obama political machine that won two presidential campaigns. And it has access to the Obama campaign's massive database, including more than 14 million e-mail addresses and a gold mine of information about supporters' voting, donating, and volunteering habits.
OFA touts high involvement, including 1.5 million people who have "taken action," which can mean donating, going to an event, helping OFA earn local media coverage, or tweeting a member of Congress.
But so far, the results have been modest. Obama failed to win expanded background checks for gun buyers despite polls showing 90 percent public support. Fundraising has proved challenging: OFA brought in just under $5 million in the first quarter of 2013, only 10 percent of its goal for the year. And some Democrats are worried that OFA is working at cross-purposes with the party's broader political goals, including fundraising for the 2014 midterms.
"Democrats now serve two masters: DNC and Organizing for Action," Time magazine declared last month.
Relax, say OFA officials. These are early days. Since he began his second term, Obama has done multiple fundraisers for the Democratic National Committee and other party committees, and just one appearance for OFA. And the effort to expand background checks on gun buyers may not be over. Three weeks after the bill died in the Senate, OFA delivered 1.4 million signatures to Congress urging it to reconsider it. Vice President Joe Biden says he's going to make another push on guns, though after immigration reform.
---