With civil unions, Bisbee, Ariz., joins gay-rights revolt against red states
Bisbee, Ariz., tried to legalize same-sex civil unions but was shot down by the state. Now it has tweaked the measure to get it on the books, joining other cities in red states that are passing ordinances to promote gay rights.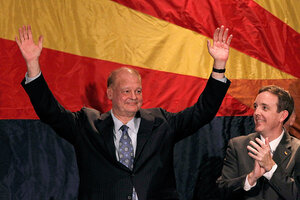 Ross D. Franklin/AP/File
Until recent weeks, this old mining town tucked in the mountains of southeast Arizona was known as a mecca for artists, retirees, and tourists who linger in eclectic shops, bookstores, and cafés. Now many also regard it as a beacon of hope for gay rights.
In a state with a conservative edge, Bisbee, population 5,600, in early April became the first municipality in Arizona to legalize same-sex civil unions. On Tuesday, after threats by Arizona's attorney general to sue Bisbee for exceeding its powers and interfering in state affairs, town leaders tweaked the ordinance to omit references to "spouses" and "marriage" and to refer to its civil unions only as contractual agreements.
But the intent is still the same – to lay down a marker that, inside these city limits, a red state becomes a blue oasis on the issue of gay rights. And Bisbee is not alone.
From St. Paul, Minn., to Lawrence, Kan., to Columbia, Miss., municipalities across the country are increasingly crafting laws to offer some rights to same-sex couples and gay individuals in defiance of their own states. The trend has occurred as public opinion grows more favorable toward same-sex marriage, with the success of local gay rights ordinances often depending on how much leeway state courts give localities in interpreting state laws.
Despite some legal setbacks – as in Bisbee – "in the overwhelming number of those cases, the local governments have prevailed," says Jennifer Pizer, an attorney with Lambda Legal, the nation's oldest legal organization working for gay rights.
In Tampa, Fla., the increasing willingness to embrace gay rights was reflected in a local ordinance unanimously passed last year that set up a domestic partnership registry allowing legal protections for same-sex couples involving matters such as medical decisions and hospital visitations.
"Things went very smoothly here," says Kate Taylor, assistant city attorney in Tampa. "We had very little opposition at the public hearings."
---