House passes market-based student loan bill: Is it a step toward a solution?
The White House has threatened to veto the GOP-backed student loan bill, but supporters say passage invites input from the Senate to arrive at a compromise before rates jump on July 1.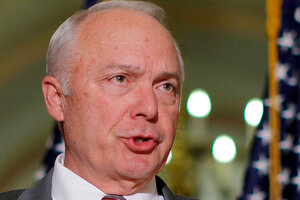 Charles Dharapak/AP/File
Congress took the first step toward making sure student loans aren't another victim of Capitol Hill's 11th-hour brinkmanship on Thursday as the House passed a proposed fix for federally subsidized college loans whose interest rates are set to double come July 1.
The bill, which would peg interest rates for student loans to the 10-year Treasury bond rate, passed 221-198, with four Democrats joining all but eight House Republicans in supporting the measure.
Despite the starkly partisan vote and a White House promise to veto the bill, the House Education and Workforce Committee chairman, Rep. John Kline (R) of Minnesota, argued that the vote helped move Congress toward resolving the issue rather than coming to a stand-off later this summer.
"President Obama asked for a long-term, market-based solution and that is precisely what we have delivered. It is now up to the Senate to move forward with its own ideas to solve the problem, so we can come together and send a bill to the president," Representative Klein said in a statement, referencing Mr. Obama's own student loan plan that resembles the House GOP proposal in some ways.
Senate Majority Leader Harry Reid (D) of Nevada has said his chamber will handle similar legislation in the near future, although its prospects for landing on the Senate floor are clouded somewhat by the need to pass a farm bill and immigration legislation in June.
Kline's legislation would add 2.5 percent to the government's rate of borrowing over 10 years for undergraduate loans and 4.5 percent to the same rate for loans taken out by parents or used to fund graduate education. Undergraduate loans would be capped at 8.5 percent, while other loans would go no higher than 10.5 percent.
Today, that would give students a rate slightly below the 3.4 percent the government currently offers but would likely rise well above that level as the economy expands.
---