Immigration reform is stuck in House, but 'gang' is resolute
Bipartisan group of House lawmakers depart the capital for recess without clinching a deal on immigration reform, missing their self-imposed deadline. But members insist they aren't giving up.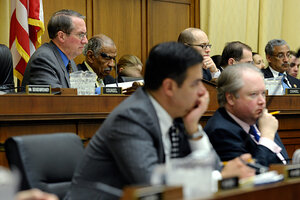 Susan Walsh/AP
Bipartisan immigration reformers in the House haven't yet managed to clinch a deal, missing their self-imposed deadline, but neither has the group called it quits.
The group of four Democrats and four Republicans has been working for months on a fix to America's immigration laws, but they are stalled over one final, vexing issue: how exactly the 11 million undocumented people living in the US would be treated under the nation's health-care system.
Though House lawmakers left Washington for the Memorial Day recess without a final resolution, the Gang of Eight didn't shatter.
"I've been fighting for immigrants for years," said Rep. Luis Gutierrez (D) of Illinois, a sponsor of the 2007 bipartisan immigration reform bill and a current House negotiator, in a statement on Thursday. "We've won battles, we've lost battles. I can tell you today that we are making progress. We'll get there."
Over in the Senate, the march to immigration reform has gone largely according to plan – a bipartisan gang of senators hatched a bill that is slated for a floor vote in June. Meanwhile, the House bipartisan group thought to be vital the process of passing immigration reform appears to be stuck in mud just inches from the finish line.
The House Republican conference, long viewed as a forbidding force on immigration reform, is now signaling that it wants to pass a bill and then hammer out its differences with the Senate.
"The House is going to work its will on immigration. We're not going to be stampeded by the White House," House Speaker John Boehner (R) of Ohio told reporters Thursday. "The House will work its will. Don't ask me how because if I knew I'd certainly tell you, but ... I'm confident that we'll have a solid work product that we can go to conference with the Senate."
---