Sheriff Joe Arpaio dodges a recall in Arizona. Still, is his star waning?
Foes did not collect enough signatures to force a recall election of Sheriff Joe Arpaio, the controversial law officer from Arizona known for his tough immigration-enforcement stance.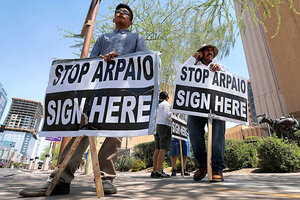 Matt York/AP
Three years after Arizona approved a tough immigration law that brought both praise and disdain from across the nation, most of the measure's standard-bearers are but a memory in state politics. Maricopa County Sheriff Joe Arpaio remains the last man standing.
Mr. Arpaio on Thursday sidestepped a recall attempt, just a week after a federal judge ruled that the sheriff's office had engaged in systematic discrimination against Latinos in violation of their constitutional rights. Still, he is wobbling.
"I don't think he's the political force he once was," says David Berman, a senior fellow at Arizona State University's Morrison Institute for Public Policy.
The May 24 ruling from US District Judge Murray Snow, who ordered Arpaio to stop using race or ancestry as a basis for traffic stops and detentions, was a setback for the sheriff's trademark immigration enforcement, which had made him a superstar among supporters of the state's crackdown on illegal immigration. The judge's decision came as a result of a class-action suit filed by several Latinos.
Recall campaign organizers had seized on the ruling to boost signature-gathering, but nonetheless fell short of the 335,000 needed by Thursday to force a special election.
"This ruling would've given us a victory, really, if it would've come a month ago," says Lilia Alvarez, campaign manager of the 120-day recall effort. Still, adds Ms. Alvarez, "we're vindicated in our cause."
The sheriff won't have to face a recall election, but for now the usually defiant Arpaio has been subdued by the court ruling. In a video posted on YouTube, the sheriff says he will appeal the ruling but will abide by it in the interim.
"The court's order is clear," Arpaio says. "We will no longer detain persons believed to be in the country without authorization whom we cannot arrest on state charges."
His legal troubles, coupled with his foray last year into the "birther" movement, have diminished the influence of one of the most prominent figures in Arizona's push to stamp out illegal immigration, Mr. Berman says.
---