Senate's new farm bill will waste billions on subsidies, critics say
Crop insurance subsidies help farmers survive tough years, all agree. But critics say they are much too generous – and Congress could increase them further in its new farm bill.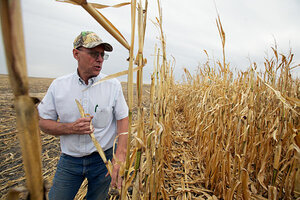 Nati Harnik/AP/File
To deficit hawks and critics of American farm policy, they are a clear example of wasteful government spending, lavishly rewarding farmers beyond what is necessary or fiscally prudent.
To many farmers, they are crucial to American agriculture – a safety net that enabled them survive the worst drought in at least a quarter-century last year.
Crop-insurance subsidies were until recently a barely noticed part of US farm policy. But with their cost soaring and Congress under pressure to cut spending, they have become one of most contentious issues in the farm bill, a hugely complicated and expensive piece of legislation that the Senate is debating this week and that will set American farm policy for the next five years.
In the broader debate, last year's drought has become a subject of differing interpretations. Did generous payouts to farmers show that the system was working? Or did it prove that farmers have become too cozy on the public dime?
For now, Congress appears to support the subsidies. Efforts in the Senate to restrict subsidies have so far mostly failed, and proposals in the House and Senate are increasing them by as much as $1 billion a year. The Senate is expected to pass its bill Monday afternoon.
Last year, farmers bought insurance for 282 million acres of American farmland. Most of the premiums – an average of 62 percent – were paid by taxpayers. Three-quarters of the insurance subsidies go to four crops: corn, cotton, soybeans, and wheat. And with crop prices rising, both premiums and subsidies have been increasing to keep pace. A program that cost the federal government between $2.1 billion and $3.9 billion from 2000 to 2007 last year rose to $14 billion.
---