Battleground DOMA: What next for opponents of gay marriage?
After twin losses at the Supreme Court, the battleground shifts to the states, where social conservative leaders aim to 'fight like crazy,' with little help from the national GOP establishment.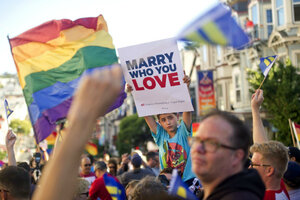 Noah Berger/REUTERS
Some are angry, others are philosophical, but opponents of same-sex marriage agree on one thing: The battle against gay marriage just got tougher, after twin losses in the Supreme Court that have given pro-gay-marriage forces a burst of momentum.
But social conservatives are ready to press on in the states, in defense of a religiously based definition of marriage that has endured for millennia, even if they don't expect much help from the Republican establishment.
"The mix of decisions magnifies the fact that people who believe in normal marriage need to fight like crazy at the state level to ensure that they keep the right to define what they want marriage to be in their state," says Gary Bauer, leader of the group American Values and one-time Republican presidential candidate.
For now, Christian conservative activists have a cushion. Gay marriage is banned in the constitutions of 30 states, and even though nationally, a growing majority of Americans supports a right to same-sex marriage, many individual states still tilt against it. Social conservative leaders also have a ready army of supporters, easily reached through churches and representing a significant portion of the Republican Party's base.
Keeping the traditional-marriage-only wing of the GOP from becoming demoralized will be part of the battle. But after Wednesday's rulings – which struck down a key part of the federal Defense of Marriage Act and opened the door to a resumption of gay marriages in California – conservative leaders expressed hope that their supporters would be all the more motivated to keep fighting.
---