Senate back at student loans as pressure and rates mount, but deal elusive
A key student loan rate doubled last week after Congress refused to act, but the majority Democrats in the Senate are split and the party leadership is looking for a short-term fix.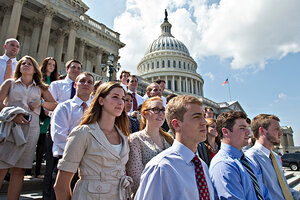 J. Scott Applewhite/AP
Back from its one-week July 4 recess, the Senate is zeroing in on student loans Wednesday, poised to take up bills addressing the interest rates on subsidized federal loans after a key rate doubled last week.
After Congress refused to act last month, the rate borrowers pay on subsidized Stafford loans – which make up about 40 percent of federal education loans – doubled from 3.4 percent to 6.8 percent on July 1.
Pressure is now mounting on Congress to come up with a fix before many student loans are issued later this summer, but the various sides appear unable to come together – even though they're not too far apart on what they seem to want.
Even the measure passed by House Republicans in May, which is criticized by most Democrats, isn't too far from the plan in President Obama's budget proposal. Both call for a long-term fix that would peg the interest rate to US Treasury borrowing rates.
Within Senate Democratic ranks, meanwhile, there is a strong split – epitomized Tuesday by dueling news conferences held by different factions of the party after a closed-door lunch.
Some Senate Democrats, including Joe Manchin of West Virginia and Thomas Carper of Delaware, along with Angus King of Maine, an Independent who caucuses with the Democrats, touted the bipartisan solution they've been pushing, which differs from the House Republican plan but which also would peg interest rates to the 10-year Treasury rate.
But Senate majority leader Harry Reid and other top Democrats criticized that solution as well as the one from House Republicans.
---