In filibuster deal, a glimpse of how the Senate could actually work
The filibuster deal to avoid the Senate's 'nuclear option' showed that when senators actually talk to each other (a rare thing nowadays), they're not so bad at figuring things out.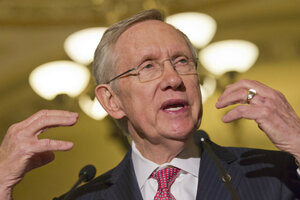 Jacquelyn Martin/AP
The "world's greatest deliberative body" may have found a partial cure for gridlock: actual deliberation.
True, this week's Senate's showdown over the "nuclear option" that would have jarringly changed Senate filibuster rules was ugly, with Senate majority leader Harry Reid (D) of Nevada riding his threat to go nuclear all the way to the brink, before a last-minute deal defused a crisis that threatened to stall the Senate until 2015.
But the dialogue away from the public's eyes in the Old Senate Chamber Monday that brought about the deal about also revealed something promising: When senators actually talk to one another, it seems, they're not so bad at figuring things out.
The accord settled few of the underlying issues rankling members on both sides of the aisle. But many members said sharing different perspectives helped drive a consensus among the rank-and-file that the two party leaders should work toward a solution instead of allowing the chamber to go nuclear.
"Both sides understand each other better. We've taken great strides to restore the comity and cooperation that used to define this great institution," said Senator Reid on Tuesday. "We have a new start for this body, and I feel very comfortable with it. I don't know how I could be happier."
"Put this down as progress in the right direction and the best possible atmosphere to go into the balance of the year when we have much tougher issues to deal with down the road," concurred Senate minority leader Mitch McConnell (R) of Kentucky.
---