Detroit bankruptcy: Is it a warning sign for America? (+video)
How Michigan Gov. Rick Snyder has dealt with financial crises in the state – and how he will handle the Detroit bankruptcy – could hold lessons for the rest of the US.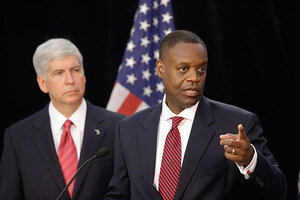 Carlos Osorio/AP
Gov. Rick Snyder (R) of Michigan could be forgiven for sounding like a bit of a cheerleader when discussing Detroit's bankruptcy Sunday on NBC's "Meet the Press."
"I'm very bullish about the growth opportunities of Detroit," he said.
On one hand, finding the silver lining of perhaps the worst fiscal disaster in the history of America's cities is his job – it's hard to imagine Michigan truly thriving so long as its largest city is an economic millstone. Yet, on a much more personal level, it seems like Governor Snyder sincerely believes he was built for this.
A businessman who was elected during the depth of the recession, when Michigan stood as America's worst-case scenario, Snyder has made sweeping changes to the public sector in the state – from pensions to health care. Detroit, in many ways, is the final exam he has been preparing for since taking office.
Indeed, considering that Detroit's bankruptcy could drag out through the 2014 election, how Snyder is seen to manage it could be crucial to his reelection prospects. But more broadly, how Detroit and Michigan navigate their seismic changes could hold lessons for the country. All the problems that the city and state are facing are looming for states from Illinois to California.
---