Anthony Weiner drama gets worse. Why we follow such shallow things.
Anthony Weiner saw his former online paramour talk to Howard Stern, a former intern trash his campaign, and his spokeswoman launch a profanity-laden tirade. Is it tragedy or farce?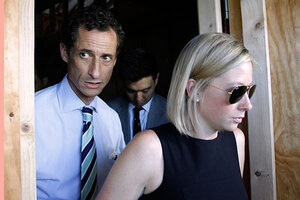 Jon Gerberg/AP
The tragic spectacle of "Carlos Danger" is not only dragging on, it is getting even more lurid.
The latest: Sydney Leathers appeared on the "Howard Stern Show" Tuesday, taunting her former online sext partner and hinting she may appear in an adult film. The same day, Anthony Weiner's now ex-intern, Olivia Nuzzi, wrote a bylined article in a New York tabloid, appearing on its cover in a sultry pose and saying she and others joined the campaign simply to get close to his wife Huma Abedin, and by extension, Ms. Abedin's friend Hillary Rodham Clinton.
Ms. Nuzzi's dish then prompted Mr. Weiner's communications director, Barbara Morgan, to erupt into a profane tirade so vile that neither dashes nor bleeps could mask it – and she said this to Talking Points Memo, a top political blog. She has since apologized, saying she didn't realize the interview was on the record, but still, another episode that makes eyeballs bulge.
So the theater of the tawdry continues, and though many express exasperation and weariness with the scandal, it remains a topic of conversation in the city – as well as a top-trending news story. Each day's plot lines draw out the curious, gaping interests of the public, like a line of highway rubberneckers.
---