After August break, a September fire drill? Fiscal crises await Congress.
Congress has nine working days when it returns in September to avert a government shutdown and, soon after, another debt limit crisis. So far, the dealmakers have yet to engage.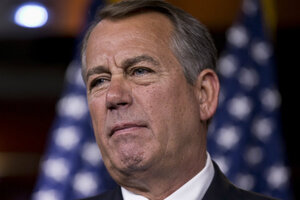 J. Scott Applewhite/AP
On the two most pressing issues confronting Congress after the August recess – preventing a government shutdown and raising the federal debt ceiling –congressional Democrats and President Obama have their game plan down pat.
Congressional Republicans, on the other hand, appear to be drawing up their plays in the sand, with rump groups in both the House and the Senate pursuing strategies at odds with party leadership.
With Congress out for a five-week August break, this disjointed state of affairs on Capitol Hill could mean Washington is headed for another intense fiscal battle in the fall, when it has only nine working days to come to terms before the fiscal year ends and the lights go out on Oct. 1, and before the national debt ceiling is breached, sometime after Labor Day.
When Mr. Obama came to Capitol Hill on Wednesday, he spoke with congressional Democrats about the National Security Agency's data collection programs, the implementation of his signature health-care law, the immigration reform fight, and an unusually public battle over potential replacements for the chairman of the Federal Reserve. What he didn't spend much time on, Democrats say, was how to proceed on the debt ceiling and funding the government.
"The caucus has followed the president very closely. We know what's in his budget. We know what he would do if Republicans stepped forward" on a compromise proposal, Senate majority leader Harry Reid (D) of Nevada told reporters. "We don't need a long discussion."
---