Obama promises to boost oversight of NSA surveillance operations
President Obama says he had called for a 'thorough review' of NSA surveillance even before Edward Snowden's actions, but that the leaks 'triggered a much more rapid and passionate response.'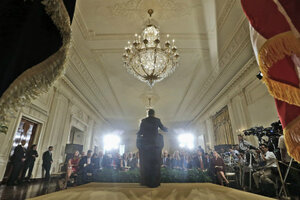 Pablo Martinez Monsivais/AP
In a move tinged with irony, President Obama announced a series of measures Friday aimed at boosting oversight and transparency in America's national security surveillance apparatus.
The president said he had called for a review of surveillance operations before Edward Snowden, a former National Security Agency contractor, had leaked aspects of the programs to news media. And thus, he suggested, his new measures did not provide justification for Mr. Snowden's actions.
"No, I don't think Mr. Snowden was a patriot," Mr. Obama said in a press conference in the ornate East Room of the White House, as he prepared to leave for summer vacation.
But Snowden did have an impact, he acknowledged. His leaks "triggered a much more rapid and passionate response" than would have been the case had he not leaked the information, Obama said.
"I actually think we would have gotten to the same place and we would have done so without putting at risk our national security and some very vital ways that we are able to get intelligence that we need to secure the country," the president said.
Obama announced four new steps:
• Reforms to Section 215 of the Patriot Act that would enhance oversight, transparency, and constraints on the program, which collects telephone records but not the content of calls.
• Changes to the Foreign Intelligence Surveillance Court (FISC) – the federal court that requires judicial review of certain intelligence activities – such that the government's position is challenged by an adversary. The goal is to make sure that concerns over civil liberties are given voice.
---