Stop-and-frisk: NYC council overrides Bloomberg vetoes, curbing policy
The override votes establish as law permanent checks on stop-and-frisk, a tactic Mayor Michael Bloomberg and Police Commissioner Raymond Kelly have called a matter of 'life and death.'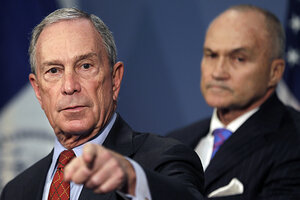 Seth Wenig/AP
In another blow to the crime-fighting legacy of New York Mayor Michael Bloomberg, the City Council voted Thursday to override his earlier vetoes of two measures designed to curtail the city's use of stop-and-frisk.
The override votes come less than two weeks after a US District Court ruled the New York Police Department's signature crime-fighting tool was being employed in an unconstitutional manner.
The federal judge found the city's practice of stop-and-frisk – in which officers stop and sometimes search anyone they believe may be involved in criminal activity – illegally targeted minorities and unreasonably subjected citizens to searches. The city is appealing the ruling.
But Thursday's override votes establish as law permanent checks on a tactic Mayor Bloomberg and Police Commissioner Raymond Kelly have described as a matter of "life and death." The two measures, known together as the Community Safety Act, attempt to reign in what lawmakers earlier perceived as ongoing abuses of the tactic.
One of the measures creates a permanent independent inspector general, who would be a new officer in the city's Department of Investigation. The inspector general would monitor police policies, conduct investigations, and recommend changes.
---