UPS drops health benefits for 15,000 spouses. An Obamacare bellwether?
UPS cited the effect of Obamacare on health-care costs in announcing the move, which deprives the 15,000 spouses of the option of keeping their current coverage, an Obama promise.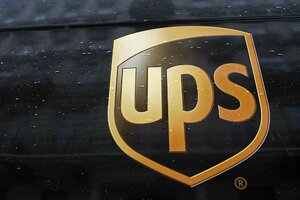 Kacper Pempel/Reuters
One of the basic pledges President Obama has made regarding his health-care reforms is that "if you like the plan you have, you can keep it." It's also a pledge that could come back to bite, politically.
The latest sign of that is the news, made public this week, that shipping company UPS will no longer make health insurance benefits available to some 15,000 employee spouses. In announcing the change, the company referred to "Obamacare" as a reason it is having to battle to contain health-care costs.
This news comes alongside other signs that employers – the largest source of health insurance for Americans – aren't finding it easy to continue with health coverage as usual.
Delta Airlines has voiced its own recent complaint about Obamacare's effect on its health costs. And other news reports chronicle employers who are paring hours for some workers, saying the reason is to curb their health costs under the law.
In the case of UPS, the 15,000 spouses are husbands or wives whose employers also offer health benefits. This appears to be a case in which they like the plan they have (they've opted for the UPS plan rather than their employer plan) and can't keep it.
Most UPS employees – those who are unionized or whose spouses don't have another employer-sponsored health plan available – aren't seeing a reduction in benefits.
And for the 15,000 who are affected, it's a bit simplistic to say their options are narrowing solely because of Obamacare.
---