Justice Ginsburg, the Cheney sisters, and same-sex marriage
For the first time, a member of the US Supreme Court has performed a same-sex wedding. Meanwhile, the daughters of former VP Dick Cheney have publicly disagreed about gay marriage.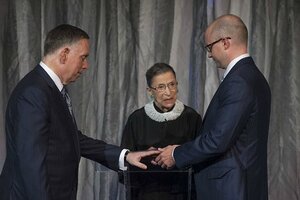 The Kennedy Center, Margot Schulman/AP
Same-sex marriage has been a constant political and social theme in recent months, but not for the reasons it made news this weekend.
Item one: The daughters of former vice president Dick Cheney – Mary and Liz – went public with their differences over gay marriage, revealing the kind of debate no doubt happening in other American families.
Item two: Ruth Bader Ginsburg – an Associate Justice of the Supreme Court of the United States – officiated at a same-sex wedding in Washington, D.C., where such marriages are legal.
In a ceremony at the Kennedy Center Saturday evening, Justice Ginsburg performed the wedding of Michael Kaiser, who runs the John F. Kennedy Center for the Performing Arts, and John Roberts.
No, not that John Roberts, the Chief Justice of the Supreme Court, but government economist John Roberts, who works at the Commodity Futures Trading Commission.
Mr. Kaiser is an old friend of Justice Ginsburg, described by the Washington Post as "perhaps the Supreme Court's most ardent supporter of the fine arts, especially opera."
---