Facebook regret? California law lets kids erase embarrassing posts.
A first-of-its-kind California law requires social media companies such as Facebook to allow teens to erase posts. But the Internet has no true 'permanent delete' button, experts say.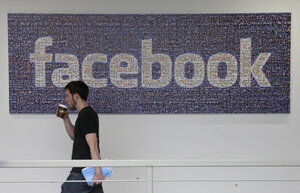 Jeff Chiu/ AP Photo/ File
California on Monday became the first state to require websites to give minors a way to take down photos and other posts.
The law keeps California at the forefront of social-media legislation. In January, California became one of the first six states to disallow companies from asking job applicants about personal information, like their user names and passwords on Facebook and other social networking sites.
The new legislation is well-meaning, say media watchers, who suggest it could spark much needed dialogue and nudge copycat legislation in other states. But they add that the protection might be misleading because it gives a false sense of security.
"Lack of control over what we may post online is the Achilles heel of social media, in particular the inability on some sites to remove something that you posted online," says Paul Levinson, a professor at Fordham University in New York and author of "New New Media." "The California law is an important step in giving consumers this power."
"Unfortunately, once a picture or anything is posted, it can be downloaded, which gives it a life even after it is removed from the primary site," he adds. "But the California law is a step in the right direction."
State Senate leader Darrell Steinberg said in a statement that the measure, SB 568, offers "a groundbreaking protection for our kids who often act impetuously with posting of ill-advised pictures or message before they think through the consequences."
---