Unusual Senate hearing leads to testy questions about NSA cellphone spying
US intelligence officials sought to ally fears about NSA activities at a Senate hearing Thursday. But one senator came away wanting more answers about cellphone surveillance.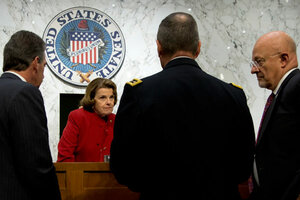 Carolyn Kaster/AP
Top US intelligence officials tried to reassure senators and the American public on Thursday that the secret collection of telecommunications metadata and other surveillance techniques used by the National Security Agency had operated legally and within the bounds of constitutional protections.
James Clapper, the director of National Intelligence, told the Senate Intelligence Committee during an unusual public hearing that he was aware that leaks about the NSA program and media coverage of the resulting controversy had "led to a lowering of trust in the intelligence community."
"We do understand the concerns on the part of the public," Mr. Clapper said. But he said he felt press reports had been exaggerated and inaccurate by suggesting widespread violations of privacy.
"We operate within a robust framework of strict rules and rigorous oversight involving all three branches of government," he told the senators.
Later in the hearing, Sen. Ron Wyden (D) of Oregon, a critic of the surveillance program, questioned Gen. Keith Alexander, director of the NSA, about whether the spy agency had ever collected or planned to collect data revealing the locations where Americans used their cellphones.
General Alexander responded that the NSA was not receiving cell site locational data and had no current plans to do so.
"That's not the question I'm asking," Senator Wyden said. "I'm asking, has the NSA ever collected or ever made any plans to collect American cell site information?"
Alexander suggested that he had already answered the question. Then he added: "What I don't want to do, senator, is put out in an unclassified forum anything that's classified here."
---