With shutdown and default clocks ticking, lawmakers hit an impasse
Four days before a possible US government default on its debt, lawmakers failed to reach agreement. That, says a European central banker, could be 'very negative for the US economy and the world economy and could certainly harm the recovery.'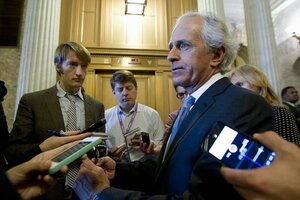 Jose Luis Magana/AP
As the day wore on Sunday, the Senate was starting to seem schizophrenic about the prospects for a breakthrough on the government shutdown (13 days and counting) and the threat of government default (as soon as this coming Thursday, according to the Treasury Department).
As usual, the venues for political discourse this day were the TV news shows.
"We will have decided as a Congress that we need to avoid going over the debt limit and we'll figure it out," Sen. Rob Portman (R) of Ohio said on NBC's "Meet the Press."
Sen. Dick Durbin (D) of Illinois, the Senate majority whip (second in command), was sanguine as well.
"I'm a hopeful person and I believe we can do it," he said, also speaking on "Meet the Press."
But many of the predictions were far gloomier.
David Plouffe, a former senior adviser to President Obama, says the odds of a breakthrough are "no better than 50/50."
"I think the notion that somehow this is going to be easily solved this week is completely false," Mr. Plouffe said on ABC's "This Week." "So I think the country needs to prepare that this could go on for a while."
For many Republicans, a key stumbling block is any Democratic effort to increase spending beyond the automatic limits set by sequestration.
---