GOP-led House votes to keep rate low on student loans, as Obama balks
The White House says Obama will veto the House bill on student loans. It prefers a Senate measure that also helps debt-crushed students, but that covers the cost by closing a tax loophole benefiting the wealthy.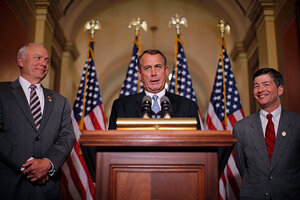 Charles Dharapak/AP
Keeping interest rates on federal student loans from doubling as of this summer turned out to be more controversial than expected, as the GOP-led House of Representatives narrowly approved a measure Friday to extend the lower rate for another year.
All but 13 Democrats voted against the measure, mainly because they don't like how House Republicans came up with the money to pay for it. But 30 Republicans also put up "nay" votes, breaking with their leadership. In the end, the bill was approved 215 to 195. It holds interest rates on new federally subsidized Stafford loans at 3.4 percent come July 1, when they would otherwise rise to 6.8 percent.
"Every penny counts when you're trying to start a career in a job market where even the most experienced workers can't find a job," said Rep. Judy Biggert (R) of Illinois, the bill's sponsor, in a statement. "And the tax-and-spend policies in Washington haven't made it any easier. The last thing these students need is more debt, and my bill will prevent an unfair rate hike at the worst possible time."
A student loan bill has not yet come before the Senate, where Republicans have proposed a measure similar to that in the House. But Democrats control the Senate, and their proposal uses a different mechanism to pay for the low loan rate. They would eliminate a tax loophole that allows some individuals providing lucrative consulting or legal services to avoid payroll taxes. The Senate is slated to vote on the Democratic option during the second week of May.
---