House passes Violence Against Women Act, grudgingly
The Violence Against Women Act breezed through the Congress in previous years, but it's suddenly a heavy lift. The GOP House passed its version of the bill on a largely party-line vote, but getting to yes with the Senate will be tough.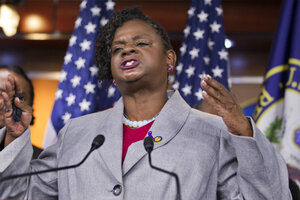 J. SCOTT APPLEWHITE/AP PHOTO
A day of dramatic, emotional debate in the House of Representatives gave way to a narrow but largely partisan vote to reauthorize the Violence Against Women Act on Wednesday.
VAWA, passing 222-205 with 23 Republicans in opposition and six Democrats in favor, will now join another once-uncontroversial measure – the transportation bill – in a conference committee between the two chambers.
The act provides some $660 million in funding over five years for programs ranging from protecting victims of domestic violence and community violence prevention to legal aid for survivors of violence. Historically a light political lift, VAWA breezed through Congress in its two prior reauthorizations.
RECOMMENDED: Top 9 reasons Congress is broken
But just like the 2012 transportation bill, a bipartisan measure passed first in the Senate was initially blocked by House Republican leaders – and bitter partisan rancor followed.
Democrats said the GOP's bill – which removed Senate-passed provisions relating to extending protections to Native Americans, lesbian, gay, and transgender Americans and illegal immigrants – showed a shocking lack of concern on the part of House Republicans.
"The indifference in this bill toward some, just some, is as chilling and callous as anything I have seen come before this Congress in modern times," said Rep. Carolyn Maloney (D) of New York at a press conference Wednesday. "Do they not bleed, and bruise, and are injured just as much as anyone else?"
---