Supreme Court to rule on health-care reform ... then what?
A blow to Obama's health-care reform law could push Democrats to choose between defining the Supreme Court ruling as a principled disagreement between coequal branches of government – or as mainly partisan.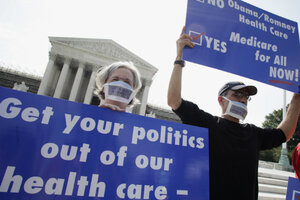 Yuri Gripas/Reuters
When the US Supreme Court offers its ruling on President Obama's health-care reform law Thursday, only one thing is certain: At least half of Capitol Hill is going to be ticked off.
If the law stands, Republicans will fume. If the law is curtailed or struck down, Democrats will seethe.

But what next? Republicans have vowed that, rain or shine, they'll keep their focus on jobs and the economy – and incorporate whatever happens at the Supreme Court into that larger message.
Democrats, on the other hand, have not even countenanced the fact that the law might fail. At least in public, they're lining up with House minority leader Nancy Pelosi's claim that the legislation is "ironclad" from constitutional challenge.
But if a majority of the high court proves them wrong, Democrats will have to choose between defining their loss as a principled disagreement or attacking the court for what they would see as an ideological – if not outright partisan – ruling.
The Republican stance is largely encompassed by a widely circulated memo from House Speaker John Boehner (R) of Ohio to his conservative House colleagues last week.
"No one knows what the Court will decide, and none of us would presume to know. But if the Court strikes down all or part of the president's health care law, there will be no spiking of the ball," Mr. Boehner wrote. "Republicans are focused on the economy – and under President Obama's policies, our economy is struggling."
---